Scott Norton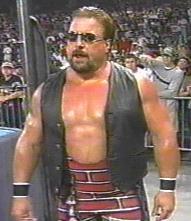 Welcome to the unofficial home page of Scott Norton of the nWo Black and White.
Vital Stats
Name: Scott Norton
Real Name: Scott Norton
Nicknames: "Flash," "Vicious"
Height: 6'3"
Weight: 335 lbs.
Birthdate: Unknown
Finisher: Power Bomb
Titles Held: World Arm Wrestling Champion, IWGP World Champion
Biography
Scott Norton was a former arm-wrestling champion who stepped onto the wrestling scene in WCW around 1993. He has shifted between WCW and New Japan throughout his career, but he has never quite been the force in the States that he was in Japan.
Norton's first tag team partner was Ice Train(Harold Hoag), around 1996. Ice Train was not agressive, and this hurt Norton. Eventually, Norton turned on Ice Train and joined up with the New World Order. His new tag team partner was Marcus "Buff" Bagwell, who called the team Vicious and Delicious(Scott being the "Vicious" part.) This team eventually had a falling apart as Bagwell joined new nWo member Scott Steiner. As the Wolfpac split up from the nWo, Norton remained with the black and white or "nWo Hollywood." He was left out of the new Wolfpac that formed between Kevin Nash and Hollywood Hogan in early 1999. As a member of the nWo Black and White with Stevie Ray, Horace Hogan, Brian Adams, and Vincent, Norton has seemed to be held down at times.
Links
The Official Home Page of "Black Feather" Scotty Phillips-Scotty Phillips is an e-wrestler of mine. Please click the link to visit his page!
Scott Norton has powerbombed

people since May 26, 1999!